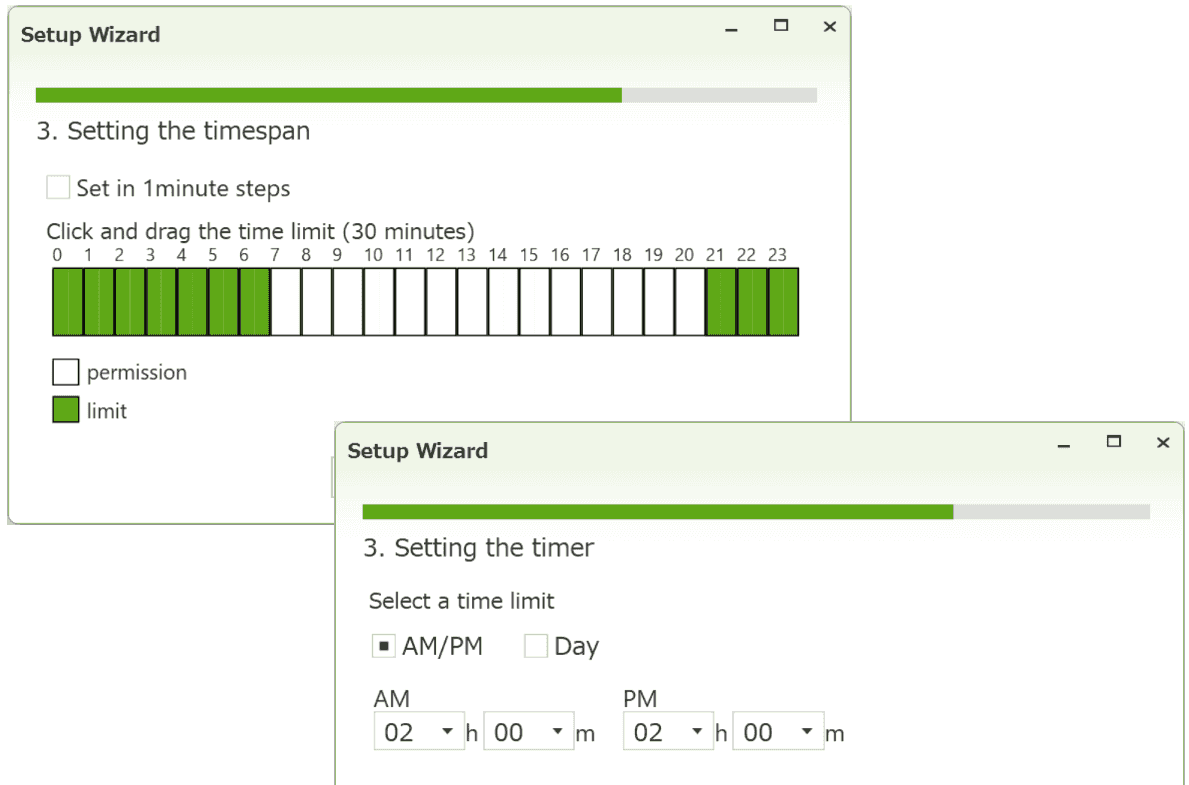 Timespan limit and Timer limit⏳
Prohibition time span can be set.
Timer can be limited to morning, afternoon or daily units
Can be set in one-minute increments

Restrictions on games and apps🎮
You can restrict any game or app by specifying the executable file (.exe).
Even if you don't know the location of the executable file, you can restrict it by specifying the app window name (red frame in the figure)
It is also possible to restrict by partial matching of window names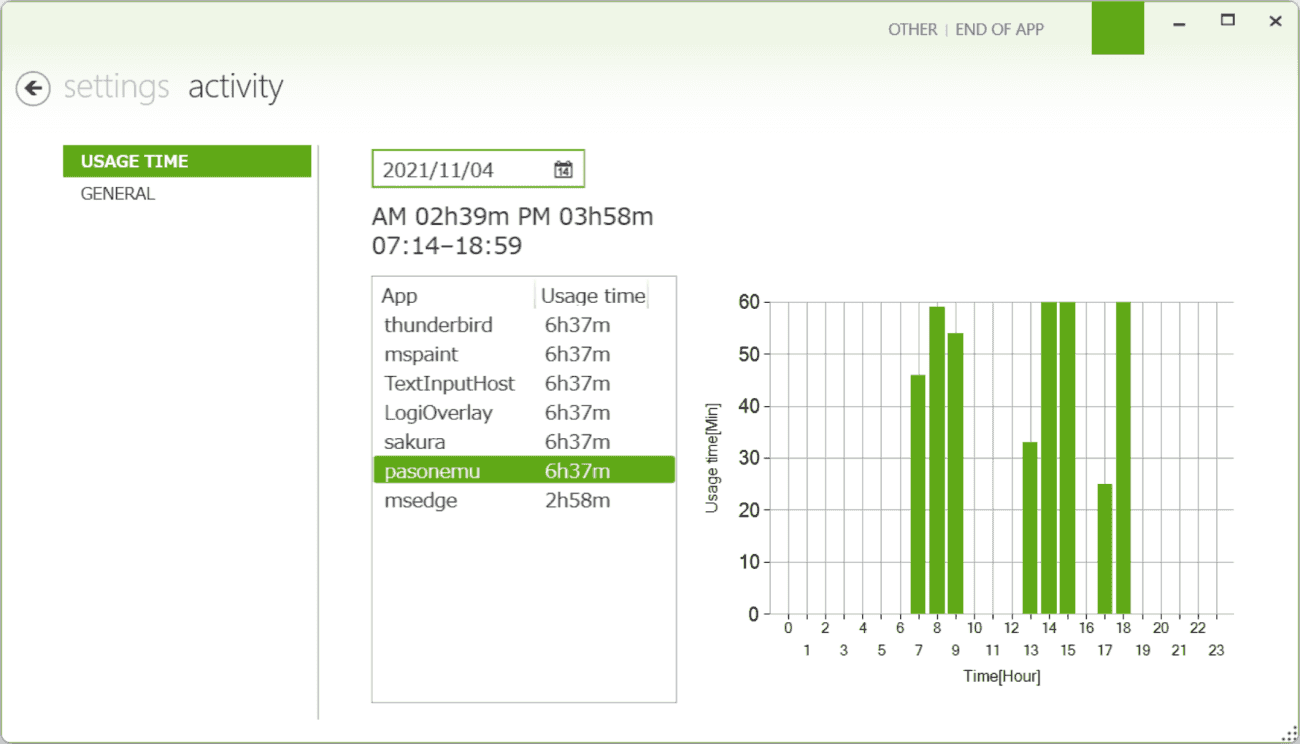 Record usage time📊
You can check how much you have used your computer and apps.
Displays a graph showing the time of day you used the apps.
Easy 4-step setup❗
1. Add settings

Select "Add" from the Pasonemu Settings screen.

2. Setup Wizard

Select the restriction target from PC, App, and Browser.


Select the timespan limit or timer limit.


Set the time limit.
 

Selects the action to be taken when the time expires.

3. Run.

Select "▶ Run".

4. Running

When the restriction starts, the Dashboard screen will be displayed.
You can check the remaining time and the setting status of the time limit.
Click the "Settings" button on the upper right corner of the screen and enter your password to return to the settings screen.
The "aA" button allows you to change the text size.


Click "X" to close it and store it in the task tray.
Click on the icon to open the dashboard screen.

Please see the online help for usage/update history.
Feature Comparison✅
You can upgrade to the Pro version by entering your license key in Pasonemu Free.
If you are an individual, one license allows you to install the software on multiple PCs owned by you.
If you are a corporate user, you can install the software on only one PC with one license.
Version upgrades are free of charge.
#
Function
Pasonemu Free
Pasonemu Pro
1
Number of settings
△
Up to 2
○
Up to 20
2
PC/App/Browser limit
○
○
3
Timer limit/Timespan limit
○
○
4
Setup by day of the week
×
○
5
Record usage time
△
Retention period: 1 day
○
Retention period: Up to 6 months
6
Pasonemu prevention of unauthorized termination
(It is not able to be completely prevented)
△
Only task manager startup prohibition
○
Task manager startup prohibited
Registry editor startup prohibited
Windows setting screen display prohibited
Command prompt startup prohibited
Run app startup prohibited
PowerShell/WindowsTerminal startup prohibited
msconfig startup prohibited
Pasonemu folder display prohibition
7
Price
Free software
Free
Shareware
$10.00
Purchase💳
Disclaimer

The author assumes no responsibility whatsoever for any problems or damages that may occur with this software.
The author may provide support to users of the software. However, the author is under no duty to provide support.
We may end shareware sales or make it free software without notice.

You can purchase by Visa, MasterCard, American Express card via Stripe (payment agency service)
The license key will be displayed only once on the web screen.
After that, the license key will be emailed to you within a few minutes.
Price: $10.00

How to upgrade
Click here to see the operation screen.
Copy the license key get to you by e-mail or web screen.
Click "Other" in the upper right corner of the Restrictions Settings screen.
Click "Upgrade" and paste the license key.
Contact us📪
We can't tell you how to remove the password for the Free version.

We welcome your comments and suggestions!
*Pasonemu is developed by an individual.